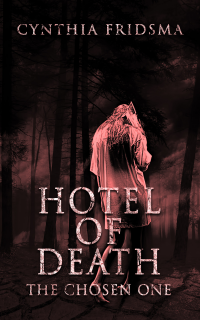 Te koop bij o.a.
Amazon.com
***
3.0 out of 5 stars
I got it on the Kindle when it was sold on that platform.

ByTravison June 28, 2017 Format: Paperback

I think it started off strong, and then as I got further (mainly part 3), it really started to lose what investment I had in it. I liked the idea of how this particular Vampire worked in regards to what others have done to them, which felt fresh (And I really don't like Vamps, because of what many have done to them over the years).
Given that aside to my thoughts on the fantasy creatures. The characters for me were kinda vain. I mean really who cares about how good you look while cutting down a few zombies (one overused creature these days, but Cynthia made them a bit tougher than a simple bullet to the noggin), as it felt more a little more over the top. I mean honestly who cares how good one looks when doing such a messy business?
But my main gripe is over the Part 3. It felt a bit rushed and forced with all the elements about it. The 'bad guy' becoming 'good', over sentimental feelings was a tad much. And the whole chosen one thing is a bit overplayed these days.

Though I found that character to be a bit of a whiny wuss, to be honest. Overall it was entertaining to read, even though it seemed like it was trying a bit too hard to make you like the characters. While they had some depth, were a little superficial and standard to their roles. They were somewhere between fleshed out creation and puppets dancing to the tune of the plot, which is a shame.

It eroded the excitement of the story as time went on, falling prey to the predictability of where the ending led up to. Leaving for me at best a decent actiony adventure story, that escalated to a less than satisfying conclusion. In a way this could have been much better if the characters were more off the cuff, and a little less standard tropes for their roles. Also while it was entertaining for what it is, felt like it was a little too long for a story of this caliber to be.
So if you like Vampire action, it will deliver. But if you like character growth, you may be at a bit of a loss.

*****
5.0 out of 5 stars
Great read from a talented author
By heidik on September 2, 2015

Format: Kindle Edition
|
A layered novel that is thought-provoking and gripping throughout. At night after reading, I could not sleep nor get this story off of my mind. The author is quite imaginative and rendered an intriguing world full of diverse characters in mysterious situations. I am hoping and waiting for a sequel to this story!



****
4.0 out of 5 stars
Imaginative mind
By paula on September 2, 2015
Format: Kindle Edition

Cynthia has a very imaginative mind, and a unique style of writing.
It reads in an easy way. I would buy her second book as well.


*****
5.0 out of 5 stars
Excellent Horror Thriller
Bycombatking0 on July 12, 2015
Format: Kindle Edition
"Hotel of Death: The Chosen One" is an interesting read, starting with a writer and his inner fight between his profession and his love for his publisher's wife.
The story quickly moves on from these every day activities into a fight between the heroic "Nightbirds" and the villainous hordes of the "Reaper".
How are these two threads linked? You'll have to read it to find out, but suffice to say, you won't see it coming!
The characters are fully fleshed out and most of them have a chance to develop over the course of the story.
The locations are brought to life through some very immersive descriptions.
Even the timeline is accurate, from the events of the American Civil War through to the modern day.
I hadn't really read thriller stories before, but this is a brilliant introduction to the genre. I hope the next entry in the series will be just as exciting to read!


*****
5.0 out of 5 stars
FASCINATING READ!!!
ByMattie on April 15, 2015
Format: Paperback

Curses vampires and so much more. HOTEL OF DEATH by Cynthia Fridsma is a real page turner. The author has developed some interesting characters. You know a book is good when your busy with life & the book seems to be calling your name. This is the first book I've read by this author and it will not be the last. I highly recommend this book if your looking for something wonderfully out of the ordinary. I received a digital copy of this novel from the author in return for an unbiased review. No compensation was received. Don't hesitate about purchasing this fascinating read...

****
4.0 out of 5 stars
Thrilling read
By Amy Garneton April 7, 2015
Format: Kindle Edition
3.5Stars
I had a hard time getting into the book, but once I did I enjoyed it.
Richard is an author on the cusp of writing his third and final book. However, things get a little waylaid when the truth comes out. He flees to Boston, to lick his wounds, heal and unwind. However, the Hotel he is staying at isn't so quiet. Richard is a pawn, who is moved around the board, with someone always telling him, you can trust me. But who can Richard really trust? After all isn't everyone out for their own interest and self promotion? He's just a pawn in the game.
It was a good book, but some of the characters for me fell flat and needed to be developed more. Sybil, she was a great character. I fell in love with her and wanted more from her. There were some long winded parts, that I skimmed. State it once, move on, stop rehashing. All in all, it was a thrilling read, that I did enjoy.


****
4.0 out of 5 stars
While reading you are easily escaping into the lives of the characters and the ...
By Peggy on April 6, 2015

Format: Kindle Edition
Wasn't prepared for the what this book took me through! Talk about on the edge of your seat with every last minute! While reading you are easily escaping into the lives of the characters and the story! Can't wait to read more from this author!
*****
5.0 out of 5 stars
You are going to want to read this book!
By Dowie on April 6, 2015
Format: Kindle Edition
*I was provided a complimentary copy in exchange for an honest review.
Hotel of Death is a fantastic read! When I started the book I didn't realize completely what was coming, and this made the book so much more enjoyable!
It added to the suspense, and the mystery!
Once you start reading you see that the story will come at you from different view points from different characters. After you get the hang of this, you will see that it gives you a more complete story line as you go. Typically this type of reading has confused me but the author really nails it!
You are going to want to read this book!

*****
5.0 out of 5 stars
Outstanding!
By Amazon User on March 31, 2015
Format: Kindle Edition

This is a fabulous read. I found myself glued to the book from page one. The writer truly has a gift of creating a story that keeps the reader on the edge of his or her seat. Her characters are well developed and you feel a sense of connection with them. I truly enjoyed the story and look forward to reading more work by this author. I hope that you can take the time to investigate her work. I recommend it.


*****
5 stars
Hotel of Death
ByALYon March 11, 2015
Format: Kindle Edition

This book was good. I was a bit confused at the beginning of the book but I got used to the picture the author was trying to paint and it was good. I liked the character development and overall the story was unique. The story was told from multiple viewpoints and I think at first that is what though me off a bit. But if you like these types of action/adventure and little vampire books you should see what you think of this one. *I received this books from the author in exchange for an honest review*

*****
5.0 out of 5 stars
The Hotel of Death is well-written and exhilarating. I look forward to more books from Fridsma.
ByEric on March 11, 2015
Format: Kindle Edition
I just finished reading the Hotel of Death and I must say that I am pleasantly surprised. The author provided me with a copy of her book in exchange for a honest review, which I am happy to provide.
This book is written in a unique style that Cynthia Fridsma took the time to develop each character. The book is divided from multiple viewpoints from the different characters in the book, allowing the reader to develop a complete picture of what is going on and why. It was exciting to see how each life intertwined into the others and how each character was thoroughly developed.
The Hotel of Death is a mix of a few genres which keeps it fresh and interesting compared to some other books that I have read recently. During the first few chapters you'd never expect vampires or any other crazy additions to the book, but then events unfold and escalate sucking in the reader.
I admire how Cynthia took the time to get locations factually right, especially when Richard visited the Freedom Trail in Boston. I walked this exact trail only a few years ago and was able to picture exactly what she was talking about and where. It brought back some great memories and pictures from my trip there.
Overall Sybil was likely my favorite character, she was extremely well-developed and played a creative role in the book. The author maintained the unique perspectives throughout the book which was exciting to see. The only minor complaint I have about the book is it seemed to have some superfluous sections that were a bit drawn out, but being so entertaining it is not a big deal. If you are into action/adventure/spy/vampire style books, this one is certainly for you.


****
4.0 out of 5 stars
It's not perfect, but a good one!
By Joannes Rhino on March 7, 2015
Format: Kindle Edition
The author writes very well. You can see, hear, taste, smell, and feel what the characters do. It is truly a 3 dimensional experience. I was hooked from the 1st page and couldn't put down the book. The plot is flow naturally. The conversations are light and make sense. Overall, I truly believe that this book is worth the read.


Bron: https://www.amazon.com/Hotel-Death-chosen-Cynthia-Fridsma/product-reviews/1507608608/ref=cm_cr_arp_d_show_all?ie=UTF8&reviewerType=all_reviews&sortBy=recent&pageNumber=1